Upscale Ambiance With Realistic Textures & Soothing Natural Colors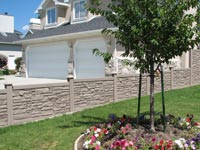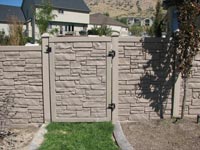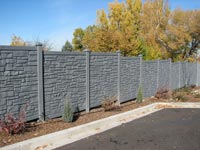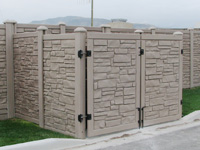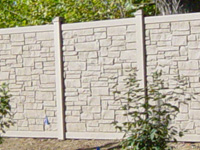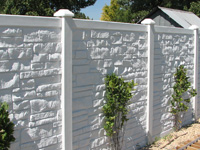 Features
Faux rock panels simulates the look and feel of granite
Steel reinforced for superior wind resistance
Thermally stable for hot & cold weather extremes
UV stabilized for a lifetime of vibrant color
Maintenance free – no sanding or painting needed
Superior impact resistance
Unique non-sag / self-supporting design
Graffiti resistant
Lifetime Warranty
Request a free quote






We Currently Feature Simulated Stone Fencing Products from SimTek Fence
SimTek Fence has reinvented fence manufacturing with its patented design of rotationally-molded fencing allowing realistic stone appearance and superior performance. What makes SimTek Fence unique?
Patented Construction

Made with proprietary Linear Low Density Polyethylene Plastic (LLDPE), Simtek's products are constructed and reinforced with galvanized steel.

Superior Wind Rating

Can withstand constant hurricane force winds up to 110 mph and 130 mph gusts. Certified to Dade County, Florida hurricane requirements.

Excellent Sound Barrier

Blocks 98% of direct sound with a sound transmission class (STC) rating of 26.

Durable in Temperature Extremes

Very stable in temperature extremes. Withstands tests at -40° to 140° F.

Fade Resistant

Contains UV12 inhibitors for a lifetime of vibrant colors. Xeon-Arc chamber tested in an accelerated environment with minimal to no fade.

Color Options

SimTek carries six designer granite colors: Brown, Beige, Grey, Black, Desert, and White.

Easy Installation

The most user-friendly fence on the market.

Greener Solution

We care about our environment. The SimTek Fence system is made with recycled and recyclable polyethylene plastic.

Graffiti Resistant

Easily remove graffiti using a high-powered pressure washer.

Solid Privacy and Security

SimTek provides exceptional privacy and security for you and your family.
A maintenance-free solution. Our patented fence will never need painting or staining; nor will it warp, fade or crack. The product is warranted for a lifetime to be free from manufacturing defects. For more information, click here.

Cost Effective Solution

Enhance your surroundings with our revolutionary "rock-look" SimTek fencing.

Made in the USA

Proudly made in the United States.